---

Welcome to ENDS Europe Special Reports, your go-to source for in-depth intelligence tailored for European environmental professionals. Our reports offer comprehensive analysis and insights across EU policy and legislation. We will delve into crucial topics, such as regulatory impacts, market trends, pivitol policy updates and best practices providing you with in-depth exploration, essential context and detail across the sector. Explore case studies, legal updates, and emerging technologies, all curated to empower you with the knowledge needed to make informed decisions. Stay ahead in the dynamic landscape of environmental sustainability with ENDS Europe Special Reports.
Unlock a Wealth of Insights
You have the flexibility to access our special reports in two convenient ways.
---
One-time purchase
Individual reports are available for one-time purchase. However, for the most cost-effective and comprehensive experience, we recommend subscribing.
Integrate all reports into your subscription package
Subscribers can seamlessly add all reports to their subscription, providing you with exclusive access to all reports scheduled for release in 2023 and 2024. This ensures you stay at the forefront of environmental intelligence without missing a beat.
Join us in driving positive environmental outcomes. Choose the option that best suits your needs and embark on a journey of informed decision-making.
Reports you can purchase:
Or have included in your subscription package...
---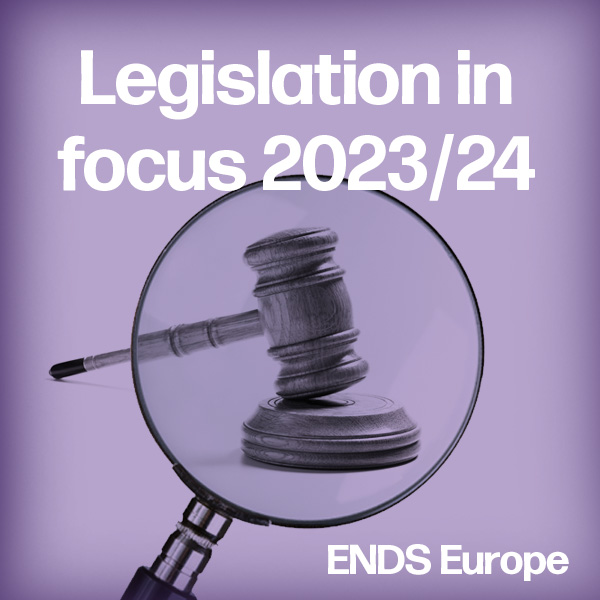 Legislation in focus 2023-2024
The ENDS Europe special annual market report reviews the changes to the European legislative and regulatory landscape in 2023, and explores what's coming up for 2024.
Gain insight into the pivotal policies set for debate in the next 12 months. This section offers an in-depth exploration, providing essential context and detail.
Stay on top of crucial deadlines in the coming year. An infographic element highlights compliance and transposition deadlines, ensuring you're well-prepared for key milestones.
Explore the significant files that have transitioned into law in the past year. This section offers detailed insights and context for a comprehensive understanding.
Learn how upcoming EU elections could potentially shape the trajectory of European environmental policy. Gain crucial foresight into the potential shifts and directions in policy-making.
Don't forget if you purchase a subscription to ENDS Europe you get the report included with your package. 
To discuss your requirements, please email 
samantha.critchell@haymarket.com 
so we can build a bespoke package to meet your needs.